Monday, July 31, 2006
South Texas Whistlestop Tour, Aug. 1-3
TUESDAY, AUGUST 1

9:00 a.m. -- Webb County Courthouse, Laredo
11:15 a.m. -- Duval County Courthouse, San Diego
1:15 p.m. -- Jim Wells County Courthouse, Alice
3:00 p.m. -- San Patricio County Courthouse, Sinton
4:15 p.m. -- Nueces County Courthouse, Corpus Christi
5:30 p.m. -- Reception at the Havana Club in Corpus Christi

WEDNESDAY, AUGUST 2

9:00 a.m. -- Kleberg County Courthouse, Kingsville
10:15 a.m. -- Kenedy County Courthouse, Sarita
12:30 p.m. -- Willacy County Courthouse, Raymondville
2:15 p.m. -- Cameron County Courthouse, Brownsville
4:15 p.m. -- Hidalgo County Courthouse, Edinburg

THURSDAY, AUGUST 3

8:00 a.m. -- Starr County Courthouse, Rio Grande City
9:45 a.m. -- Zapata County Courthouse, Zapata
12:15 p.m. -- Jim Hogg County Courthouse, Hebbronville
1:30 p.m. -- Brooks County Courthouse, Falfurrias
4:30 p.m. -- LaSalle County Courthouse, Cotulla
posted by PDiddie at 4:55 PM |


Friday, July 28, 2006
"They don't think your votes count."
The Corsicana Daily Sun, on last Wednesday afternoon's Courthouse Tourstop:



"They don't think your votes count,"

Van Os challenged the group as he began his attack on incumbent Greg Abbott, who he hopes to unseat in November. "They think that re-election is a done deal."

"I wrote a letter to Greg Abbott and invited him to meet me on this tour of Texas," Van Os said. "But he's a part of the Rick Perry team of arrogance."

Van Os echoed a familiar theme in this year's campaigns -- an attack on the Trans-Texas Corridor project proposed by Governor Perry.

"They have already decided what to do. It was done in secrecy," Van Os claimed, saying that according to the Texas Constitution, the attorney general has an obligation to block it and hasn't done so.

Van Os clearly voiced his dislike of the current administration in Austin, blaming the Perry administration for everything from gas prices to school finance to health care.

"In the mid-90's, it looked like we were in for good times," Van Os said, "then a bunch of silk-tied gangsters stole the election in 2000 and turned into a bunch of power brokers ...

then left the junior gangsters in charge in Austin."



Van Os displayed a poster he is distributing on his campaign targeting "the big oil companies" he says are to blame for oil and gas prices.

"The price of gas is not a laughing matter. People are struggling like dogs to make paychecks to afford $3 a gallon gas. There is no worse 'catch 22' -- you can't afford the gas to go to work, and you can't afford not to go," Van Os said.

"I'm giving notice to big oil ... I'm coming after you, and I mean it. What they are doing to us is a crime, a sin and a travesty," Van Os added.

Van Os also touched on other political hot topics such as utility rates, health and homeowners insurance premiums, and how the cost of essential services affects not only consumers, but business and government as well, all translating into higher costs to Texans.

"Nobody is minding the store for Texans. Our message to them is those that haven't been doing their jobs need to be fired," Van Os said, urging Democratic supporters to reach out to Republican neighbors to share his message.


posted by PDiddie at 4:43 AM |


Wednesday, July 26, 2006
From the Austin American Statesman, covering the campaign in Hays County (San Marcos):
"The naysayers, including some in my party, I'm sorry to say, say I cannot win, and I say to heck with that. I'm taking my case directly to the people," said Van Os, who is running against incumbent Republican Attorney General Greg Abbott.

Van Os said that as the business interests give more money to political campaigns, politicians have developed a culture of greed and corruption.

He talked about the rising cost of gas in Texas, attributing the increase to the recent mergers of some of the major fuel companies such as Chevron and Shell, He said many elderly and low-income residents can no longer afford gas.

"Working people are having to choose not being able to afford not going to work or not being able to afford going to work," Van Os said.

After his speech ended, Van Os' wife Rachel Barrios-Van Os told a story about an elderly man who came to Van Os in Caldwell County, crying because he and others in his community couldn't afford gas.

"He said to David, 'Will you fight for us,' " Barrios-Van Os said. "People are crying, democracy is being stolen in front of our very eyes and they see it," she added.

Van Os also lamented that many victims of Hurricane Rita could not afford homeowners insurance and have not been able to fix their damaged homes.

Van Os said that Texans pay the highest premiums on homeowners insurance in the country because of what he called corporate control over those who set the premium rates. Texas Department of Insurance spokesperson Jim Hurley confirmed that Texans pay higher rates but said it is because Texans file more claims than people in any other state because of hurricanes, hail, tornadoes and other natural disasters.

The attorney general's office has the authority to protect consumers and can sue gasoline, insurance and other types of companies.

Van Os added that Abbott receives money for his campaign from corporate interests, citing Houston home builder Bob Perry, who has contributed $1.1 million. Van Os said home building is another industry in Texas with too few companies for consumers to choose from.

...


Jim Mattox, former Democratic attorney general for Texas from 1983-1991, said that Van Os faces a difficult time getting his name out, though he thinks Democrats may be able to exploit Gov. Rick Perry's low approval ratings.

"I would tell him to try to get all the Democratic ticket to campaign together and to continue to preach fire and brimstone in the media. David is a great speaker; he is probably the best speaker running today in Texas politics," Mattox said.
posted by PDiddie at 1:54 PM |


Sunday, July 23, 2006

Capitol Annex, Lyn at Houston Democrats, Muse's musings, John Coby at Bay Area H-Town, and Hal at Half Empty.

More later will update this posting.



Update

: The Political State Report.

posted by PDiddie at 7:08 PM |


Friday, July 21, 2006

Huntsville Item:


Texas Attorney General candidate David Van Os was in town Thursday on his 254-county tour to tell Walker County voters how he plans to take the power away from the corporations and put it back into the hands of the people.

With his "whistle-stop campaign," the San Antonio labor attorney will travel to every county courthouse in Texas, sending his message directly to the people.

Van Os made his 84th stop on the tour Thursday afternoon at the gazebo in front of the Walker County Courthouse and spoke about the struggles faced by Texans with the escalating price of gasoline.

"There are people struggling in this state who cannot make their paychecks stretch to cover the cost of gasoline to get to and from work and that's a disgrace in this great state," Van Os said. "It's a disgrace when working people have to choose between not being able to afford not to go to work and not being able to afford to go TO work."

What baffles Van Os is the apparent need for an increase in gasoline prices, when the gasoline companies are still making a great deal of profit. If elected, Van Os said he will go after those very companies for the sake of the people.

"A fair warning to big oil: When I get sworn in in January of 2007, I'm coming after you on behalf of the people of this state," he said. "When one private company is bringing in $3 billion a month in net profit, not gross revenue, Exxon/Mobil made $36 billion in 2005. The mind can hardly comprehend how much money that is.

"When profits are that huge, yet the price to the consumer keeps going up at the consumer end, something's wrong. It defies common sense. I don't buy it, and somebody's got to go after it."


As the oil giants get set to report record quarterly earnings again, it's about time somebody did.


Van Os also sent a message to insurance companies, who he said were driving up prices to the point of being unaffordable if someone is not on a company plan.

"They've made it to where the individual citizen can't afford health insurance unless they're part of a group plan through their employer or their union," he said. "The insurance monopolists are telling Texans that they have to pay the highest premiums of anyone in the country for homeowner's insurance."

What makes Van Os really upset about the issues at hand, is that he does not see current Texas attorney general Greg Abbott doing anything about it.

"When it's like that and nobody's doing anything about it and we have antitrust laws that require competition, somebody needs to take them on, and that republican incumbent corporate mouthpiece attorney general in Austin is not doing it and is not going to do it." Van Os said. "It's time to fire him and put a people's lawyer in the attorney general's office in Texas and it's fixing to happen this year."
posted by PDiddie at 1:05 PM |


Thursday, July 20, 2006

DVO Courthouse Tour Stops, July 25-29

Tuesday, July 25

9:00 AM Hays County Courthouse, San Marcos
10:45 AM Bastrop County Courthouse, Bastrop
12:45 PM Lee County Courthouse, Giddings
2:30 PM Milam County Courthouse, Cameron
4:00 PM Bell County Courthouse, Belton
6:00 PM Fundraising reception at the home of Chris and Dian Ruud, Temple

Wednesday, July 26

9:00 AM Falls County Courthouse, Marlin
10:30 AM Limestone County Courthouse, Groesbeck
12:15 PM Freestone County Courthouse, Fairfield
2:15 PM Navarro County Courthouse, Corsicana
4:00 PM Henderson County Courthouse, Athens

Thursday, July 27

9:00 AM Cherokee County Courthouse, Rusk
10:45 AM Rusk County Courthouse, Henderson
1:30 PM Harrison County Courthouse, Marshall
2:30 PM Marion County Courthouse, Jefferson
4:00 PM Gregg County Courthouse, Longview
5:00 PM Potluck fundraising reception at Gregg County Democratic Headquarters, Longview

Friday, July 28

9:00 AM Panola County Courthouse, Carthage
10:30 AM Shelby County Courthouse, Center
12:00 PM Nacogdoches County Courthouse, Nacogdoches
3:15 PM Anderson County Courthouse, Palestine Evening Dinner reception with Anderson County Democrats, candidates, elected officials, and supporters

Saturday, July 29

Ride on Texas State Railroad with Chris Bell

posted by snarko! at 11:42 AM |


David speaks at TTC hearing in Fort Worth

David attented the Trans-Texas Corridor hearings in Fort Worth last Monday and gave remarks for the record. Click on CanoFun to watch and listen.

posted by PDiddie at 9:35 AM |


Wednesday, July 19, 2006

Houston Business Connections poll will open your e-mail client for submission. Clicking on "other races' at the top right will take you to more polls.

posted by PDiddie at 3:53 AM |


Monday, July 17, 2006



:)

posted by snarko! at 9:01 AM |


Somervell County Salon on David's response to the Texas Observer:


Before I go into a bit of what Van Os said in response in the July 14, 2006 issue, I have to say that the bald facts do show that the Democratic party in Texas needs to be energized, and I personally believe that having candidates that speak their minds to issues the people care about, rather than playing to the center and polls would achieve that . I believe Van Os is not only going about running for office the right way, but emphasizing grass roots efforts by speaking directly to the people is extremely effective.


Hal of Half Empty heard David for the first time at the Courthouse Tour stop in Richmond:



Standing there in the hot sun, looking dapper in his

cobalt blue long-sleeved shirt

, bolo tie,

dark brown vest

, and

tan cowboy hat

, Van Os looked the essence and image of a Texas politician. Height-wise, he falls below the state average, but what he lacks in altitude he makes up in attitude: the man is one feisty son-of-a-gun.

I didn't really know what to expect, having never attended a political event for this kind of office. What I definitely did not expect is a lesson in civics, but that's what we all got: he quoted the Texas State Constitution, and told us all to look it up. I did. It floored me. Understand this: Texas has an anti-trust law written right into its constitution. ...

Come to think of it, I was watching Meet the Press a few weeks ago. Tim Russert interviewed the CEOs of ConocoPhillips, Chevron Corp., and the president of Shell Oil. They all sounded as if they were talking from the same cue cards.


I'm not an expert on the oil business, and it looks like those three aren't either, but there's something fishy about these record profits. Looks like David Van Os is saying that he wants to do something about that.
And the oustanding Daily Kos diary by Txsharon is a don't-miss:
When David and Rachel left, headed for their next whistle stop at Montague County, several of us--Democrats and Republicans--wandered back across the street to the Courthouse Cafe for some iced tea and conversation. Something happened then that I thought would never happen again.

We very gently started to talk about politics. People were tentative at first but, as we discovered that we agreed on just about everything, the conversation became more animated. The Republican voters, and they weren't moderates but staunch Republicans, said that Bu$h had fooled them. They are as disgusted as we are!

We must reach out to these Republicans, our fellow Americans! Rather than meeting them with haughtiness, we must make it easy for them to join us in our fight to get our country back. This is what David told us in his convention speech. He is right again!

This movement is not unique to Wise County. The grassroots Republicans and Democrats have momentum going. Texas is having a movement! However, the "Corporate Embedded Media" is not reporting this movement. David can't even get one mention in any big paper--even with the erection of the Notice to Big Oil billboards.
posted by PDiddie at 3:46 AM |


Saturday, July 15, 2006
From the Stephenville Empire-Tribune:
His motto is "Fight 'em 'til hell freezes over, then fight 'em on the ice."

Those were the words coming from David Van Os, Democratic candidate for Texas Attorney General, who was in Stephenville Wednesday as part of his Whistlestop tour.

Standing in front of the Erath County Courthouse, Van Os gave a fiery speech to those in attendance, railing against big oil companies and what he called "insurance monopolists."

Saying he will speak to "anyone who will listen," Van Os said that if he becomes the next attorney general his first order of business will be to go after the "rich oil companies."

"The oil companies are raking in big money while telling the working-class guy that he has to pay more for his gasoline," he said.

Van Os said that last year ExxonMobil enjoyed a $36 billion net profit, while the price of gasoline reached upwards of $3 per gallon.

"Something is wrong - and the people know it," Van Os told the crowd. "They've got a nagging discomfort in their bones. They know there is a monopoly of power in this country and they don't know what to do about it."

Van Os said the people sitting in political office do nothing to protect working class people from the "fat cats" who are ripping people off, including insurance companies who are also enjoying record-setting profits.

Texans, he said, pay the highest premiums for homeowners insurance than anyone in the country. He accused Greg Abbott, Texas' current attorney general, of not doing enough to foster competition and keep rates down.

"He's just sitting on his hands," he said. "The people who are sitting in political office are there for the purpose of enriching themselves and their cronies. And that bunch in Austin who only represent the rich people are about to get fired."


Be sure and vote in their web poll. No registration required, look on the left hand side.

posted by PDiddie at 5:53 AM |


Thursday, July 13, 2006

Audio and video from the Courthouse Tour

At the David's tour stop at the courthouse in Glen Rose yesterday, the Somervell County Salon took video and audio of his speech. Go watch and listen.

posted by PDiddie at 11:57 AM |


DVO Courthouse Tour Stops, July 20-21

Don't miss your chance to hear and speak to David Van Os at the following Central Texas locations next week:

Thurday, July 20

9:30 AM - Burleson County Courthouse, Caldwell
11:00 AM - Brazos County Courthouse, Bryan
1:45 PM - Grimes County Courthouse, Anderson
3:30 PM - Walker County Courthouse, Huntsville

[ Appearances previously listed for Friday are currently being rescheduled due to necessary civil rights actions (David has to walk the talk!) Please stay tuned, or

sign up for Whistlestops...

(that's the kind of up-to-the-minute info that newsletter tells ya...) ]



posted by snarko! at 11:49 AM |


Somervell County Salon: DVO in Glen Rose
Dos Centavos: DVO's billboard campaign
Texas Kaos: Big Oil Served notice
jobsanger: Van Os will protect Texas from corporate greed
Bay Area Houston: David Van Os: I'm coming after you
Musings: 1.1 Million Reasons why we need a new Attorney General
posted by PDiddie at 3:36 AM |


Wednesday, July 12, 2006
Yo, Mobil. Hellooooooooo, Valero.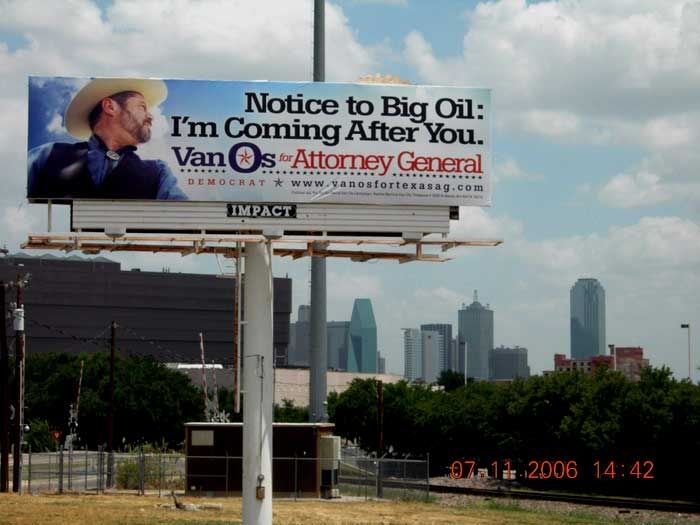 posted by PDiddie at 5:02 AM |


Monday, July 10, 2006

More Courthouse Tour newspaper coverage

The Fort Bend Herald and Texas Coaster:


Saying he is ready to "take on" big oil and big insurance in Texas, Democratic Attorney General hopeful David Van Os paid a visit to Richmond last week to promote his candidacy.

Van Os is looking to unseat incumbent Attorney General Republican Greg Abbott, who was elected to the office in 2002. Speaking before an audience of Democratic supporters at the Fort Bend County courthouse in Richmond, the self-styled "people's" lawyer criticized Abbott for not using the office to break up what he calls oil monopolies and for not enforcing what he sees as collusion in the insurance business.

"That one company is making staggering amounts of profit and you're still being told you have to pay higher and higher and higher prices," he said of Exxon-Mobil.

Van Os said the merger of oil companies like Exxon and Mobil and Chevron and Texaco have contributed to high gas prices and the reduction of jobs in the Gulf Coast area. However, the issue can be tackled from the Attorney General's Office, he said.

"The Attorney General of Texas is a constitutional officer, and he has the tools by virtue of the Texas Constitution and the laws of the state of Texas to literally do something about it," he said.

He said Texas law stating "monopolies are contrary to the genius of free government and shall never be allowed." Antitrust laws, he said, can be used to break up the oil companies. Abbott, said Van Os, has acted as a "corporate mouthpiece," hosting fundraising dinners at $5,000 a plate and accepting money from a "who's-who" of Texas corporations.

...

Van Os urged the audience of Democrats to not engage in defeatism. He said he can win the office in November, and that Democrats need to believe they can win in Texas.

"They can outspend us a million to one and it doesn't matter," he said.
posted by PDiddie at 5:08 PM |


Saturday, July 08, 2006
Thanks to everyone who contributed. The first four will be visible soon in the Metroplex and East Texas in a short period of time. Specific location details to follow.



Update

: Dallas, Harry Hines Boulevard at Market Center Boulevard, within the week.

posted by PDiddie at 7:24 AM |


Friday, July 07, 2006
DVO Courthouse Tour Stops, July 11-13
Tuesday, July 11
9:00 AM
Llano County Courthouse, Llano
10:15 AM
San Saba County Courthouse, San Saba
11:45 AM
Lampasas County Courthouse, Lampasas
2:30 PM
Coryell County Courthouse, Gatesville
4:00 PM
Hamilton County Courthouse, Hamilton
Wednesday, July 12
9:00 AM
Bosque County Courthouse, Meridian
10:45 AM
Erath County Courthouse, Stephenville
1:00 PM

Somervell County, Glen Rose

2:15 PM
Hood County Courthouse, Granbury
3:45 PM
Parker County Courthouse, Weatherford
Thursday, July 13
9:00 AM

Wise County Courthouse, Decatur

10:45 AM
Montague County Courthouse, Montague
1:15 PM
Clay County Courthouse, Henrietta
3:00 PM
Jack County Courthouse, Jacksboro
4:30 PM
Palo Pinto County Courthouse, Palo Pinto






















posted by PDiddie at 2:34 AM |


Brenham Banner-Press:


Texas Attorney General candidate David Van Os was greeted by almost two dozen Democratic Party faithful upon his arrival at the Washington County Courthouse's north entrance steps about 4:15 p.m. Wednesday.

Noting he might have to double-check his county count ("This is No. 4 today!"), Van Os calculated this Brenham stop likely makes Washington County No. 80 in his determination to take his quest to unseat AG Gregg Abbott, a Republican, to all 254 Texas counties by election day.

...

Van Os says he strongly believes that -- effectively with the assistance from Republican politicians now in office -- many oil companies, insurance companies and banks/financial institutions have become "robber-barons" whose thievery it is the sworn duty of the Texas attorney general to stop.

For instance, Van Os said during a 15-minute talk, "Average people are told they don't qualify for a car loan (or other purchase) because of their credit score" yet aren't clued in as to "who's keeping score."

Van Os emphasized, "Competition is virtually non-existent among the oil companies" -- making it virtually impossible for low-income people to afford to drive even 10 miles round-trip to work.


More, including the comments of CD-02 candidate Ted Ankrum, at the link.
posted by PDiddie at 2:15 AM |


Thursday, July 06, 2006

New Braunfels Herald-Zeitung:


The man who would boot Texas Attorney General Greg Abbott out of office next November was in New Braunfels on Wednesday morning, talking big and taking names.

Democrat David Van Os spoke on the steps of the Comal County Courthouse as part of his whistle-stop tour of Texas' 254 county seats.

His message, heartily received by the county's Democrats, was a populist one: It's time to take back the top office in Texas law enforcement and give it to a "peoples' lawyer" who will do the people's work and not the bidding of big business or special interest groups.

...

His stump speech sounds like the kind of scolding movie lawman Dirty Harry might hand out right before he blows away a bad guy -- a combination of consternation over someone messing up coupled with the promise he's going to be coming to set them straight.

"Yesterday was the 230th anniversary of the founding of our nation, of the issuance of the Declaration of Independence, where for the first time in the history of the world a country was created on the proposition of all men are created equal and that government exists with the consent of the governed," Van Os said. The founders, he said, risked their lives for the fulfillment of that mission.

"I don't think they were flapping their gums, and I don't think you believe it either," Van Os said. "They meant it to endure -- purely and simply, they meant it."



There's more. Go read the whole thing.
posted by PDiddie at 8:29 PM |


musings: 1.1 Million Reasons Why We Need a New Attorney General In Texas
musings: 1.1 Million Reasons Why We Need a New Attorney General In Texas
posted by snarko! at 1:04 PM |


Sunday, July 02, 2006

SD-18 Courthouse Tour July 5 and 6

Get ready for some old-time democracy, coming to a courthouse near you:

Wednesday, July 5

8:45 a.m. Comal County courthouse, New Braunfels
10:30 a.m. Caldwell County courthouse, Lockhart
11:30-12:30 lunch in Lockhart
2:00 p.m. Fayette County courthouse, La Grange
4:00 p.m. Washington County courthouse, Brenham



Thursday, July 6



9:00 a.m. Waller County courthouse, Hempstead
10:30 a.m. Austin County courthouse, Bellville
12:15 p.m. lunch in Columbus
1:15 p.m. Colorado County courthouse, Columbus
3:15 P.M. Fort Bend County courthouse, Richmond

posted by PDiddie at 9:08 AM |


More SE Texas media reports on the Courthouse Tour

The Lufkin Daily News:


Van Os had the same message for insurance monopolies and other corporations. He said corporations "have been enthroned in high places" and given privileges that nobody else has. He said he wants to fight oil companies that can take $3 billion in profits and still charge $2.90 a gallon for gas.

The AG candidate said the average Texas worker who has to drive 10 miles to work each day with gas at $2.90 a gallon does not make enough money to cover the expense.

"They're not able to not go to work," Van Os said. "But they are not able to go TO work, either."

Van Os said the average working person can't afford insurance and that, when he visited Newton, about half of the people whose roofs were damaged from the hurricane could not afford to get them fixed.


The Montgomery County Courier:



With all the fire of a "come to Jesus" revival, two Democratic candidates for state office presented their gospel of how they will change things during a whistle stop tour appearance at the Montgomery County Courthouse Wednesday afternoon. ...

As storm clouds rolled overhead and thunder rumbled in the distance, Van Os, an attorney and former state Supreme Court candidate, gave a fiery speech denouncing corruption in corporations, specifically oil and insurance companies. Talking about ExxonMobil's recent record profits, he said, "The amount of money going into corporate coffers is so vast, our minds cannot comprehend it. Yet, people have to pay $2.90 a gallon at the pump. Something is way, way, way out of whack." ...

"Texas is entitled to an attorney general who will use the tools of the office to make sure government understands the first three words of the Constitution - 'We the people,'" he said to cheers. "Help me take it back."



The Dayton News:



Standing on the county courthouse steps, David Van Os, Democratic candidate for Texas Attorney General and Gary Binderim, Democratic candidate for Congressional District 2, spoke to the citizens of Liberty County on why they are running and what they will accomplish once they are voted into office. ...

"I decided to run for attorney general because I am fed up with how my state and country are being run. I felt that I was personally responsible to do everything in my power to make it happen," he said.



More Courthouse Stops are scehduled for next week. Details to come ...

posted by PDiddie at 8:04 AM |